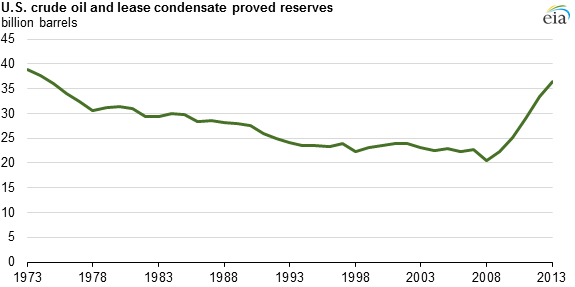 ---
U.S. crude oil and lease condensate proved reserves rose for the fifth consecutive year in 2013, increasing by 9% from the 2012 level to 36.5 billion barrels, according to the
U.S. Crude Oil and Natural Gas Proved Reserves, 2013
report released yesterday by the U.S. Energy Information Administration (EIA). U.S. crude oil and lease condensate proved reserves surpassed 36 billion barrels for the first time since 1975. .....
...Continued development of the Bakken/Three Forks play in North Dakota accounted for a large portion of the reserves additions, and overall, tight oil plays accounted for almost 30% of all U.S. crude oil and lease condensate proved reserves....
read more here
Towns and cities across America are often unaware that crude oil is being transported across their borders, and ill-equipped to handle a potential crude oil fire. Though the routes taken by crude-bearing trains is hidden from the public,
safety-incident data collected by the train companies and reported to the U.S. government
reveals some of the routes.
Related Story »
A searchable database of incident reports can be found here: Pipeline and Hazardous Materials Safety Administration
At a Senate Commerce Committee hearing Wednesday that focused primarily on President Obama's nominee to head the National Highway Traffic Safety Administration, Sen.
Claire McCaskill,
D- Mo., took time to question
Carlos Monje,
the nominee to be assistant secretary of transportation, about Bakken oil moving across her state.
"I think a pipeline is the safest way to move it, not rail," she told Monje, noting that she
voted to approve the Keystone XL pipeline,
though which some Bakken crude would move, if it's built.
"I have heard from local first responders both in Kansas City and St. Louis. While we've had some crude by rail accidents, they have primarily been in more rural locations," she said. "Obviously if that were to occur in a major metropolitan area like Kansas City or St. Louis, we would have a much more significant problem to deal with."
She said the urban first responders worry that "they're not getting enough information about what is the right response, what is the best response. They fear that they're not as trained and as knowledgeable as they need to be on this issue." .....
read more here