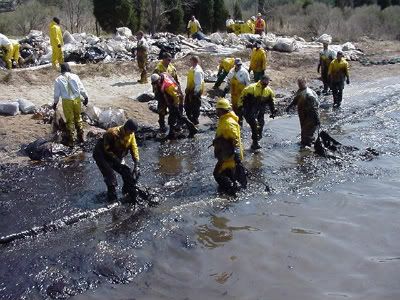 In Kalamazoo over 800,000 gallons of oil made it's way into the Kalamazoo river.
Ed note:
This article raises more questions than it provides answers: what are the Washington routes? have the rail bridges along them been structurally inspected for safety? does the Dept. of Ecology have a response plan in place? do First Responders and local communities know what is passing by? and when??
Union Pacific railroad officials confirmed last week they are now transporting full trains of Canadian oil through Northern California on a route that likely cuts through central Sacramento....
.... UP said new shipments into California from Canada started in late November, running through Idaho, Washington and Oregon.
"We expect to run crude trains on this route moving forward," UP's Aaron Hunt wrote.
The trains from Canada likely carry
tar sands
, also called bitumen, which is considered less flammable than the Bakken oil from North Dakota. Bakken oil has been involved in a several major rail explosions in the last few years, including one that killed 47 people in a Canadian town. State safety officials say tar sands, viscous and heavy, are a threat to waterways because the material can sink, making spills hard to clean. A bitumen spill from a ruptured pipe forced closure of 35 miles of the Kalamazoo River in Michigan in 2010 and required $1 billion in cleanup costs over a three-year period....
read more here