They especially worry about fire trucks and ambulances getting stuck waiting for trains at intersections while responding to emergencies.
Minnesota Gov. Mark Dayton met with city and railroad officials Monday morning to talk about the dramatically increased train traffic in Coon Rapids and in neighboring cities.
Rail crossings are often blocked in Coon Rapids due to "train staging" -- a practice where trains wait for clearance to continue into a nearby rail yard. It causes blocked crossings for up to 25 minutes if the train is too long and does not fit in the staging area.....
read more here


by Katie Weatherford, 12/22/2014 Center for Effective Government
On Dec. 9, North Dakota announced a new rule for rail shipments of highly volatile crude oil from the Bakken shale formation. The standard issued by the North Dakota Industrial Commission is intended to respond to spills, fires, and derailments that have injured and killed people and harmed the environment. Unfortunately, the new rule does not sufficiently protect against explosions, fails to address unsafe railcars, and does not impose penalties that would deter violators.....
.... the rule does not set a stringent enough standard to reduce the dangers of explosions. The train involved in the Lac-Megantic incident last year, for example, was carrying oil with a vapor pressure below 10 psi, significantly lower than North Dakota's new standard.
Safety and operating standards for railcars are also missing. The railcars typically used to transport Bakken crude to refineries – known as "DOT-111" cars – were never designed to carry highly volatile oil and gas. Despite numerous incidents involving trains carrying Bakken crude oil, the agency failed to impose any safety requirements on the use of these risky railcars..... read more here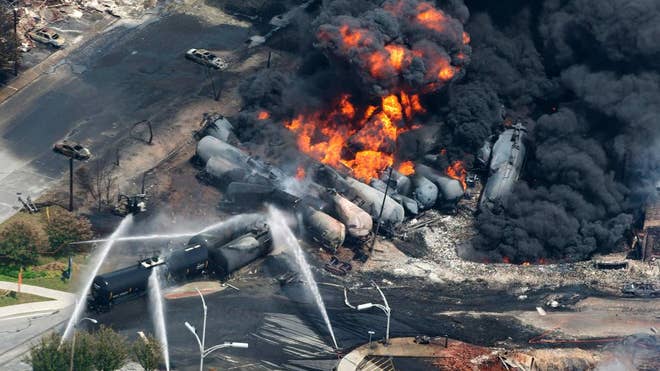 DEC. 23, 2014
PORTLAND, Maine — A proposed settlement fund for victims of a fiery train derailment that claimed 47 lives in Canada is nearly halfway to a goal of $500 million in funding commitments ahead of its filing next month, the defunct railroad's bankruptcy trustee said.
More than a dozen corporations that face potential liability in the
Lac Megantic
, Quebec, oil train disaster have agreed to pay over $200 million to the fund and that sum could more than double by the time judges in the U.S. and Canada sign off, bankruptcy trustee Robert Keach told The Associated Press....
read more here
December 23, 2014
MuseLetter #271 / December 2014 by Richard Heinberg
Download printable PDF version here (PDF, 97 KB)
Oil prices have fallen by half since late June. This is a significant development for the oil industry and for the global economy, though no one knows exactly how either the industry or the economy will respond in the long run. Since it's almost the end of the year, perhaps this is a good time to stop and ask: (1) Why is this happening? (2) Who wins and who loses over the short term?, and (3) What will be the impacts on oil production in 2015?....
more here