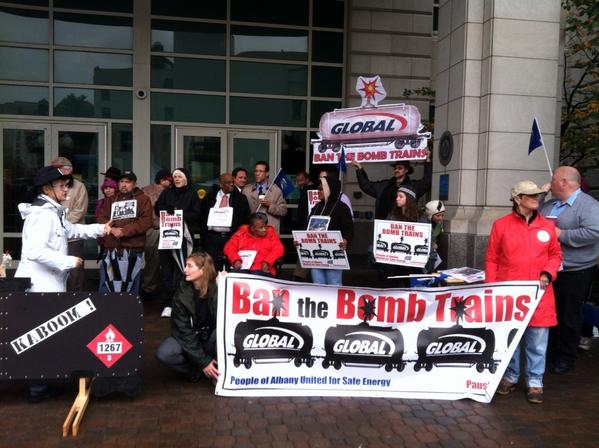 Local activist protest at DEC Building, Ban The Bomb Trains.
Patricia Guadalupe Sputnik US 01/25/15
It's a practice activists call extremely dangerous, but a judge said it can continue, at least for now. It's the shipment of crude oil on railcars, or what critics label "bomb trains" because the highly volatile material can explode – and sometimes does.
This has wreaked havoc in residential communities they travel through.
In this particular case, the environmental groups
Sierra Club and ForestEthics
had petitioned the U.S. Department of Transportation
to stop the practice of rolling oil-filled tanks on railroad tracks through populated areas
, but the Ninth Circuit Court of Appeals has announced it would wait to see whether the federal government actually did so before continuing with the grievance.
"This appeal is stayed until May 12, 2015, or pending publication in the Federal Register of the final tank car standards and phase out of DOT-111 tank cars, whichever occurs first,"
wrote court mediator Chris Goelz.
U.S. safety regulators say they are reviewing their policies, looking also at the design of the cars transporting the oil. Both the U.S. and Canadian governments have determined that those cars are more prone to leaks and explosions than other types of railcars.
A fireball explodes into the air after two trains derailed outside Casselton, North Dakota, in December. One was carrying Bakken crude oil.
Transporting crude oil by rail has been increasing in the past few years, and it doesn't appear it will disappear any time soon. An analysis last month by the research group IHS Energy Inc., which supports the practice, says it expects that by next year at least 10 percent of crude oil transported in North America will be done so by railways, with the United States alone producing nine million barrels of oil a day and using a pipeline network not large enough to handle all the volume.
"Rail transport of crude oil has become an enabler of growth in North America, playing a crucial role as pipeline capacity has struggled to keep pace with the rapid rise of North American oil production since 2008,"
IHS Director Kevin Birn said in a statement.
Opponents say it raises real safety concerns, and they point to several catastrophic events as evidence that oil-by-rail should stop. For instance, more than 900 barrels of oil spilled two months ago when two trains derailed in North Dakota. ....
more here
Other news: