After a testy meeting, OPEC agreed to maintain current production targets. The failure to support oil prices via reducing production led to a sharp fall in prices on Thursday, with West Texas Intermediate crude dropping by over 6% and Brent plunging over 8% before rebounding to finish the day 6.7% lower, at $72.55 a barrel. Many analysts believe that
oil could continue its slide to $60 a barrel
.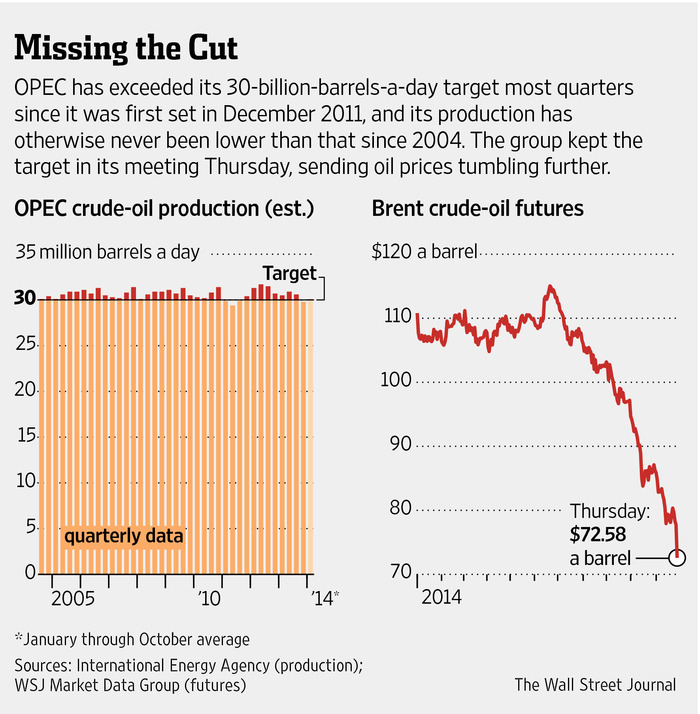 The ripple effects hit currency markets and, of course, energy stocks. The Wall Street Journal emphasized the potential upside for the US economy, with lower energy prices giving consumers more money to spend elsewhere. Energy importing countries will also benefit.
In keeping with our reaction to Saudi's earlier decision to let oil prices slide
, more and more commentators are seeing the OPEC refusal to support the market as at least in part designed to target the US shale gas industry.
despite official denials
. From the
From the Financial Times
:
"I wouldn't call it a price war, but it's a very aggressive test for US shale," said Jamie Webster, oil analyst at IHS Energy, a consultancy. "It's a new gambit for Opec to try."…
read more here