Big Oil and Big Rail - they don't care who they hurt as long as they get their way.
Lawsuit: Conspiracy by Gov. Brown, oil companies tainted aquifers
By David R. Baker, June 3, 2015 4:35pm
A conspiracy involving Gov. Jerry Brown, state regulators, Chevron Corp. and the oil industry let petroleum companies inject their wastewater into California aquifers despite the devastating drought, a lawsuit filed Wednesday alleges.
The suit claims that Brown in 2011 fired California's top oil regulator under pressure from the industry after she started subjecting some of the oil companies' operations to greater scrutiny, particularly requests to dispose of oil field wastewater underground. Brown then replaced her with someone who promised to be more "flexible" with the oil companies,
according to the complaint
.
Federal officials have since determined that oil companies have
injected billions of gallons
of their wastewater into aquifers that should have been protected by law, aquifers that could be used for drinking or irrigation. California regulators have now pledged to end the practice, although some of the injection wells may be allowed to
keep pumping until 2017
.
"California is experiencing the greatest drought of this generation, and protecting fresh water is of paramount concern," said R. Rex Parris, lead attorney representing Central Valley farmers on the suit, which was filed in U.S. District Court for the Central District of California.
California's oil reservoirs contain large amounts of salty water that must be separated from the petroleum and disposed of, usually by pumping it underground. Oil production companies can't extract oil without some way of handling the left-over water, also known as "produced water." The urge to boost California oil production prompted the conspiracy, Parris said.....
more here
Repost from the
San Francisco Chronicle
State conservation chief quits amid tainted aquifer controversy
By David R. Baker, Friday, June 5, 2015
The head of the California Department of Conservation, Mark Nechodom, abruptly resigned Thursday following an outcry over oil companies injecting their wastewater into Central Valley aquifers that were supposed to be protected by law.....
..... Nechodom did not give a reason for his departure. But a division of the Conservation Department that regulates oil-field operations has come under intense criticism for letting oil companies inject wastewater into aquifers that could have been used for drinking or irrigation.....
more here
Background: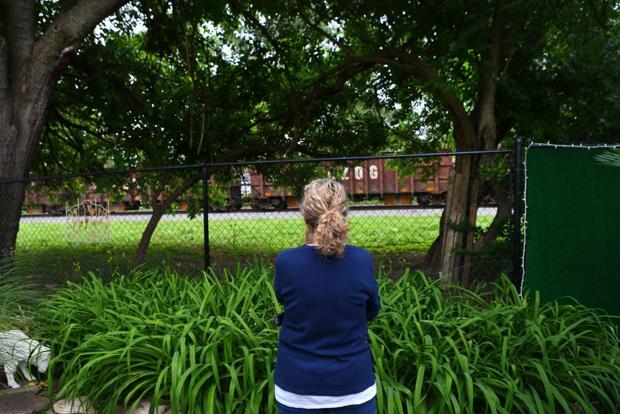 Judith Studebaker watches from her backyard on Arendes Drive in the Holly Hills neighborhood as a train passes through on Wednesday, June 3, 2015. Railroad contractors recently cut trees from behind residents' homes, removing some privacy barriers. "I said you just can't do this, you just can't," said Studebaker, who confronted the tree cutters. "I felt so helpless."
Photo by Robert Cohen, rcohen@post-dispatch.com article here