More electricity from renewables, fewer gasoline-powered vehicles and lower power consumption by buildings mandated under '50-50-50' agenda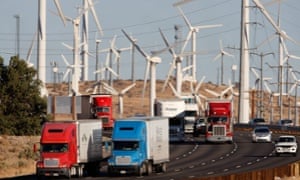 California
lawmakers have passed a dozen ambitious environmental and energy bills setting high goals for reducing greenhouse gas emissions and petroleum use, and creating new standards for energy efficiency.
Dubbed the California climate leadership package, the 12 bills represent a Democratic-driven push in the Senate to advance an agenda of technological innovation and conservation that was put into play by an executive order by California Governor Jerry Brown in April. The package will next move to the assembly for debate.
One of the cornerstones of the program is SB 350, which calls for a "50-50-50" reduction in major areas of climate concern. It mandates a 50% reduction in petroleum use by vehicles by 2030, the equivalent of removing 36m cars and trucks from the road.
It also calls for 50% of the state's electricity supply to be derived from renewable resources by that date, and 50% better energy efficiency in buildings through retrofits and upgrades.
"California has demonstrated our global climate leadership over the last decade," said Senate president Kevin de Leon after the passage of SB 350. "These policies will further cement our leadership, further strengthen our economy and protect the health of our communities."....
more here
|
June 4, 2015 EcoWatch
IKEA, a company known for its ready-to-assemble furniture, is
also a leader
in
renewable energy
and
climate
mitigation. The Swedish furniture giant today announced a massive $1.13 billion commitment to address the effects of
global warming
in developing countries.
According to an
announcement
, the generous measure was made to accelerate the transition to a low-carbon economy and to support the communities most at risk. The massive $1.13 billion total is made up of combined pledges from the IKEA Group and the IKEA Foundation, the philanthropic arm of the group. The majority of the commitment (around $560 million) will be invested in wind energy and around $110 million is expected to be invested in solar up to 2020.
"Climate change is one of the world's biggest challenges and we need bold commitments and action to find a solution," said Peter Agnefjäll, IKEA Group president and CEO. "That's why we are going all in to transform our business, to ensure that it is fit for the future and we can have a positive impact. This includes going 100 percent for renewable energy, by investing in wind and solar, and converting all our lighting products to affordable LED bulbs, helping many millions of households to live a more sustainable life at home."
IKEA said it's on track to become energy independent, producing as much renewable energy as it consumes in its buildings. The company, which has invested around $1.7 billion in wind and solar since 2009, has also committed to owning and operating 314 offsite wind turbines and has installed 700,000 solar panels on its buildings.....
more here
Other links: