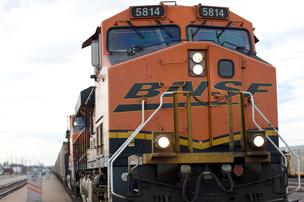 Matthew Staver:

A BNSF Railway Company train in La Junta, Colorado, U.S. Photographer: Matthew Staver/Bloomberg
Bakken.com
Susan Taylor and Solarina Ho
TORONTO (Reuters) Aug 15, 2014
More than eight months after an extreme winter began snarling North American rail traffic, a Reuters analysis of industry data shows delays lingering, raising the risk of a second winter of chaos on the rails.
Across the continent's seven largest operators, trains ran almost 8 percent slower on average and sat idle at key terminals for nearly three hours longer in the second quarter than a year earlier, data from the main railroads, known as Class 1, show.
While Canada's rail operators have nearly recovered, many U.S. operators lag far behind.
The concerns are sharpest in the U.S. Farm Belt, with lawmakers fearful that the biggest crops on record may be slow to reach markets or could even rot.
Rail logjams contributed to the economic slowdown early in the year, rippling across corporate America and affecting everything from car makers to ethanol producers.....[snip]
ECONOMIC FALLOUT
In the United States, more than 40 percent of goods, valued at more than $550 billion, are shipped by railroad each year on some 140,000 miles of track. Canada's 30,100 miles of track carry half of the country's export goods.
Frozen transportation links contributed to a nearly 3 percent contraction in the U.S. economy during the first quarter, the New York Federal Reserve said last week.....
....."We're sounding the alarms right now," North Dakota Senator Heidi Heitkamp told Reuters. "We believe the 2014 crop could be taken off the fields and there won't be any place to store it, because of the lack of ability to move product by rail."
BNSF and Canada's CP Rail operate the main rail networks in North Dakota, where farmers vie for space with some 700,000 barrels per day of crude oil shipped by rail from the state's Bakken Shale.
"You can't see these massive increases in crude-by-rail and not appreciate that they are creating problems for moving agricultural products," Heitkamp said.....
read more here