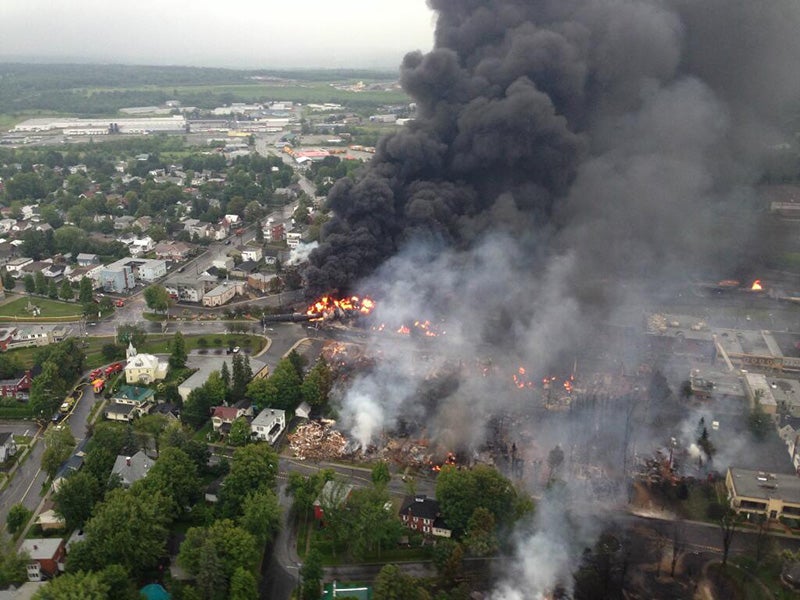 By
[Ed. note: this "pay a pittance" bill was sponsored by Sens. Ron Wyden, D-Ore., Chuck Schumer, D-N.Y., Dianne Feinstein, D-Calif., Bob Casey, D-Pa., Jeff Merkley, D-Ore., Sherrod Brown, D-Ohio, and Mark Warner, D-Va. who continue to promote it.]
Sen. Sherrod Brown wants shippers using tank cars that have been linked to fiery train derailments to pay fees that would be used to reroute train tracks, train first responders and clean up spills.
Brown has proposed fees that start at $175 per car
for those using the DOT-11, a tank car that federal regulators have warned hazardous-material shippers against using.
The fees would pay to clean up hazardous-material spills, to move tracks that handle large volumes of hazardous material and to hire more railroad inspectors. Brown's bill earmarks about $45 million over three years to train first responders near rail lines that carry large quantities of hazardous material.
Earlier this year, federal regulators tightened rules on newly manufactured tank cars but did not require shippers to immediately remove the old cars.
"(The rule) probably didn't go far enough," Brown said on Tuesday at the site of a 2012 derailment and explosion near the state fairgrounds. "If it's a threat to public safety, they probably need to be off the rails."
The federal rule will phase out or require retrofitting of thousands of the oldest tank cars that carry crude oil by 2018. Another wave of the oil-carrying tankers would have to change by 2020.
Some of the tank cars that aren't carrying crude oil would not be replaced or retrofitted until 2025.
Brown's proposal calls for a tax credit for companies that upgrade their tank cars to the new federal standard in the next three years.
Chet Thompson, president of the American Fuel & Petrochemical Manufacturers trade association, said his organization would oppose the fee structure Brown proposed.....
more here
Utilities efforts to turn back the clean-energy revolution would block low-income communities from realizing the benefits
The clean-energy revolution is underway, and so is the war against it. As with every other major economic transition, this battle will have winners and losers. For low-income communities of color, the stakes are especially high: Will they reap the benefits of the emerging clean-energy economy or will they be locked into energy ghettos?
Here's the context. Renewable energy — solar and wind — is quickly replacing fossil fuels as the preferred energy source. It is now cheaper than coal and most other fossil fuels. Innovative financing mechanisms have eliminated out-of-pocket costs for installing these technologies, enabling homeowners to save and even earn money from energy production. For example, "net metering" lets solar-powered households sell their surplus energy back to the grid for a profit — sending their electric meters spinning counterclockwise.
The utility sector is not happy with these developments, and it is fighting back. A recent Washington Post article cites utilities' efforts to influence legislators, state public service commissions and — of particular concern — minority organizations. They want to eliminate net metering and assess households with solar-power systems a monthly surcharge to offset the utilities' sunk capital investments and maintenance costs. And they have convinced some minority organizations that, without the surcharge, the poor will pay more through rate hikes as clean-energy and net-metering schemes benefit only well-to-do families.
This is a specious argument with potentially dangerous and unfortunate consequences, particularly for low-income residents. Eliminating net metering or placing a surcharge on households that migrate off the grid would foster a two-tiered energy society. These steps would render solar power unaffordable for low-income households, locking in historical racial and class hierarchies. The problems are analogous to the forces that created and sustained central-city ghettos..... more here